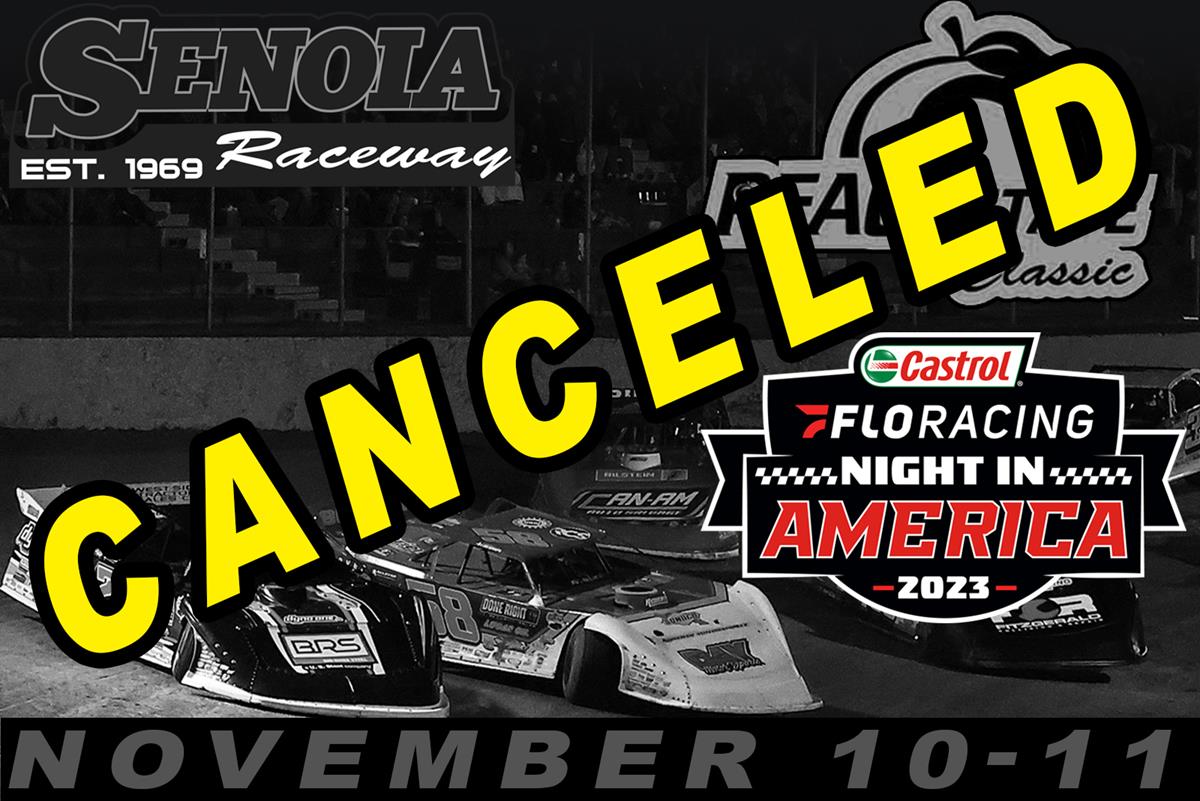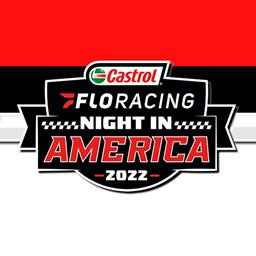 11/9/2023
Castrol FloRacing Night in America
---
CFNiA Senoia Weekend Washed Away
SENOIA, Ga. (Nov. 9, 2023) — With a forecast that continues to deteriorate for Friday and Saturday, officials with Senoia Raceway and Castrol® FloRacing Night in America have made the tough decision to cancel Friday and Saturday's portions of the Peach State Classic. The event will not be rescheduled.
Thursday's local division show is still on go as scheduled.
"It's a bummer on a lot of fronts. We had a five driver battle for the title heading into this big weekend, and then the entire Pollard family works so hard on this event and is really busting their tails to make this a crown jewel event for the south. However, you can't control the weather, and we wanted to save as many teams and fans unnecessary travel costs as we could," said Castrol FloRacing Night in America General Manager, Ben Shelton. "Forecasts are now calling for rain starting Friday and running through Saturday, so this was the best decision in a bad situation for all involved. We definitely look forward to brighter skies and better weather at the event in 2024.
"Thank you to the Pollard family for giving their best shot at making the event happen, and thank you to all the fans, teams, sponsors, and tracks, who supported our series in 2023. We are already full speed ahead planning for next year and will be releasing details soon."
With the season now completed for Castrol® FloRacing Night in America Bobby Pierce claims the championship by nine markers over Hudson O'Neal.
With perfect attendance, Pierce claims the $75,000 title for the series just days after claiming the World of Outlaws (WoO) Case Late Model Series crown.
Hudson O'Neal will receive $20,000 for second with Jonathan Davenport receiving $10,000 for third. The balance of the Top 10 in the final standings is as follows:
1)Bobby Pierce - $75,000 (increased from $50,000 because of perfect attendance)
2)Hudson O'Neal - $20,000
3)Jonathan Davenport - $10,000
4)Ricky Thornton Jr. - $7,000
5)Tim McCreadie - $6,000
6)Dennis Erb Jr. - $5,000
7)Brandon Sheppard - $4,000
8)Mike Marlar - $3,750
9)Tanner English - $3,500
10)Daulton Wilson - $3,000
2023 Castrol® FloRacing Night in America Point Fund
1)$75,000 (with perfect attendance or $50,000 without perfect attendance) 2)$20,000 3)$10,000 4)$7,000 5)$6,000 6)$5,000 7)$4,000 8)$3,750 9)$3,500 10)$3,000
Thursday night's program includes complete shows for Hot Shots, Mini Stocks, Bombers, Hobbies, and 602 Chargers. Following the completion of the night's program the Duncan Brothers Band will be performing a live concert, where admission is free.
For more information on Senoia Raceway, please visit www.SenoiaRaceway1969.com .
For more information on Castrol® FloRacing Night in America sponsors, visit the company websites at www.castrol.com; www.integrashocksandsprings.com; www.k1racegear.com; www.buzzeracing.com; www.eibach.com; www.sweetmanufacturing.com; www.springrithm.com; www.sunocoracefuels.com; www.eibach.com; www.coltmanfarms.com; www.poske.com; www.rocketchassis.com; www.dirtdraft.com; www.hoosiertire.com; www.fivestarbodies.com; and www.fkrodends.com.
For complete Castrol® FloRacing Night in America details, visit the series website at www.FloSeries.com. For other questions, contact Ben Shelton at msrmafia@gmail.com or 901-335-3037.
Back to News