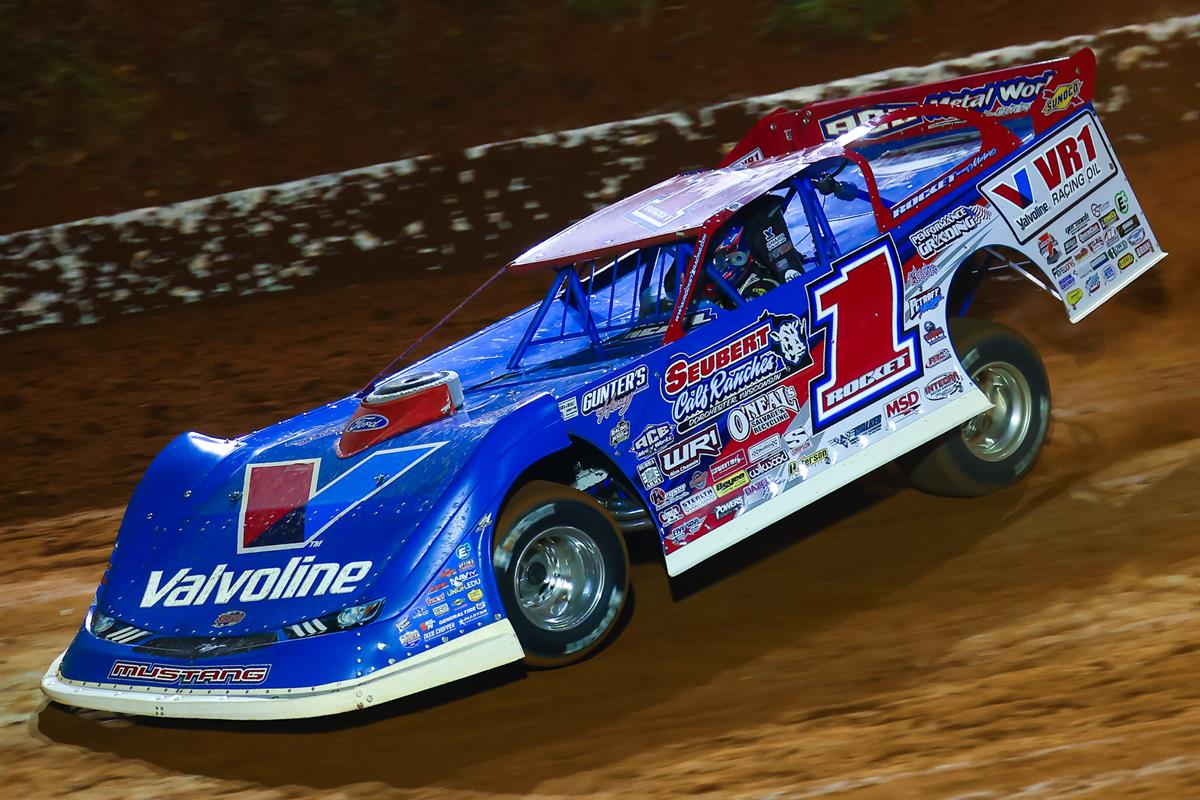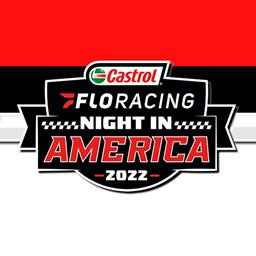 10/13/2023
Castrol FloRacing Night in America
---
O'Neal Perserveres for Castrol FNiA Tri-County Win
BRASSTOWN, N.C. (Oct. 12, 2023) — Hudson O'Neal seemed to be in full control as he marched to a flag-to-flag victory in Thursday night's Castrol® FloRacing Night in America -sanctioned Tar Heel 53 at Tri-County Racetrack.
But inside the cockpit, the Martinsville, Ind., driver's nerves were running wild. Something didn't sound right under the hood of his Rocket Chassis house car, and that left him far more worried than he was about anything the pursuing Bobby Pierce of Oakwood, Ill., might throw at him.
"We had a terrible miss (in the engine)," O'Neal said. "It started about halfway. I don't know that it really hurt me, but it was making me nervous. I thought that eventually it was just gonna get worse and worse and worse and we were gonna be out of it."
The problem proved to be a pesky, but not terminal, electrical malfunction, and O'Neal never faltered down the stretch. In fact, he even adjusted his line around the quarter-mile oval late in the distance and beat Pierce to the finish line by 1.273 seconds for his third Castrol tour triumph of 2023 and a $23,023 payday.
Fifth-starter Ricky Thornton Jr. of Chandler, Ariz., finished third after slipping underneath Jonathan Davenport of Blairsville, Ga., for the position on lap 49. Davenport settled for fourth after running second for laps 1-10 and third for the ensuing 38 circuits while Dennis Erb Jr. of Carpentersville, Ill., completed the top five after starting 17th.
Pierce, 26, started from the pole but was outgunned for the lead at the initial green flag by O'Neal, who shared the front row and found more grip at the top of the track. O'Neal never relinquished the spot as he turned back a mid-race threat from Pierce to emerge victorious.
O'Neal opened some space on Pierce during the 18-lap stretch of green-flag action that closed the feature by changing how he navigated the bullring.
"The longer the race went and the slicker (the surface) got up there (near the outside wall), I just kept hanging and hanging and hanging," O'Neal said. "Then I just started diamonding (the first and second corners). I started doing it a little bit down in (turn) four too and it really helped my exit and got me a lot more speed down the straightaway."
O'Neal's primary worry was the scary-sounding skip in his engine.
"It would have spurts," O'Neal said. "Like every two laps it would stumble a little bit. It was really, really bad whenever it first started, and then the longer the race went it kind of got less frequent.
"When something like that happens your heart just sinks, because I'm leading this race and I feel like I've got a car good enough to win and then something like that happens. I'm like, 'No, man, not right now.' It can't happen whenever you're running 10th. Thankfully it held up."
Pierce heard the off-kilter sound of O'Neal's motor. The World of Outlaws Case Late Model Series regular thought that might be his ticket to the first-place prize.
"At the start of the race the bottom was a little slimy and I just couldn't take off (from the pole) and that's what got me back to third on the start," Pierce said. "Luckily J.D. (Davenport) made that one bobble over there and I got around him (for second on lap 11) and from then on it was just holding him off on every restart.
"(O'Neal) was pretty good up there (around the top). I was banking on whatever issues he had (with the) popping (engine), and I was hoping he would just pull off. I would've hated it for him, but I would've loved to see that for me."
Pierce's runner-up finish kept him atop the Castrol FloRacing Night in America points standings, however, by nine points over O'Neal heading to Nov. 10-11's season-ending Peach State Classic at Senoia (Ga.) Raceway that includes $20,000- and $53,000-to-win events.
While the tour's rule allowing drivers to drop their two worst finishes makes the scenarios for the $75,000 championship prize a bit more complicated, O'Neal is glad he was able to draw closer to Pierce.
"It's so great to come and win this," O'Neal said. "We're in a tight points battle right now with Bobby and it would be nice to go to Senoia and have a good showing and maybe take home the Flo championship."
The feature was dotted by five caution flags, including three for scrapes involving two or more cars. The largest incident came on lap seven when fifth-place Kenny Collins spun in turn three from apparent contact with Ethan Dotson, triggering a tangle that collected Garrett Alberson — who nearly rolled over upon sliding into Collins's nose — Tim McCreadie, Ross Bailes, Jimmy Owens and David Payne.
Dale McDowell, who won last year's Castrol tour event at Tri-County, slowed between turns one and two on a lap-seven restart due to a broken panhard bar and driveshaft and left Austin Neely and Dennis Erb Jr. stacked up in his wake. On lap 15 Neely and Bailes tangled between turns three and four, while other cautions flew for Donald McIntosh (lap seven) and Vic Hill's blown right-rear tire (lap 35) after he had climbed from 19th to sixth.
Castrol® FloRacing Night in America concludes the 2023 season on Nov. 10 – 11 at Senoia (Ga.) Raceway with the third annual Peach State Classic. The weekend includes a $20,000-to-win program on Friday, Nov. 10 and a $54,054-to-win event on Saturday, Nov. 11.
Complete event details will be available in the next week.
For more information on the facility, please visit www.SenoiaRaceway1969 .
Drivers, who plan to compete in any of the 2023 season events, are encouraged to register via the site or directly at https://www.myracepass.com/series/1997/registrations/6834 .
Advance registration will make check-in on the day of the show easier.
For more information on Castrol® FloRacing Night in America sponsors, visit the company websites at www.castrol.com; www.integrashocksandsprings.com; www.k1racegear.com; www.buzzeracing.com; www.eibach.com; www.sweetmanufacturing.com; www.springrithm.com; www.sunocoracefuels.com; www.eibach.com; www.coltmanfarms.com; www.poske.com; www.rocketchassis.com; www.dirtdraft.com; www.hoosiertire.com; www.fivestarbodies.com; and www.fkrodends.com.
For complete Castrol® FloRacing Night in America details, visit the series website at www.FloSeries.com. For other questions, contact Ben Shelton at msrmafia@gmail.com or 901-335-3037.
Castrol® FloRacing Night in America Points
Tri-County Racetrack (Brasstown, N.C.)
Oct. 12, 2023
A Feature 1 (53 Laps): 1. 1-Hudson O'Neal[2]; 2. 32-Bobby Pierce[1]; 3. 20RT-Ricky Thornton Jr[5]; 4. 49-Jonathan Davenport[4]; 5. 28-Dennis Erb Jr[17]; 6. 187-David McCoy[16]; 7. 18D-Daulton Wilson[20]; 8. 20-Jimmy Owens[18]; 9. 79-Donald McIntosh[15]; 10. 174-Ethan Dotson[8]; 11. 1H-Vic Hill[19]; 12. 1D-Brent Dixon[3]; 13. (DNF) 114-Jordan Koehler[21]; 14. (DNF) 93-Carson Ferguson[13]; 15. (DNF) 6-Ross Bailes[14]; 16. (DNF) 3N-Austin Neely[22]; 17. (DNF) 39-Tim McCreadie[10]; 18. (DNF) 1C-Kenny Collins[6]; 19. (DNF) 17M-Dale McDowell[9]; 20. (DNF) 58-Garrett Alberson[7]; 21. (DNF) 38-Jamie Oliver[12]; 22. (DNF) 8-David Payne[11]
DNS: Shawn Chastain, Clay Harris, Chuck Southard, Ricky Weiss, Charles Devine, Daniel Wilson, Daniel Adam, Tanner English, Garrett Smith, Seth Wimpey, Galen Robinson, Kurt English, Shawn Chastain
Entries: 34
Dirt Draft Hot Laps: Hudson O'Neal (12.344 sec)
Sunoco Race Fuels Qualifying Group A Fast Qualifier: Ricky Thornton Jr. (12.544 sec.)
Sunoco Race Fuels Qualifying Group B Fast Qualifier (and overall): Hudson O'Neal (12.534 sec.)
Integra Racing Shocks Heat Race #1 Winner: Bobby Pierce
K1 Race Gear Heat Race #2 Winner: Brent Dixon
Buzze Racing Heat Race #3 Winner: Hudson O'Neal
Eibach Springs Heat Race #4 Winner: Jonathan Davenport
Coltman Farms B-Main Winners: Dennis Erb Jr., Jimmy Owens
Trailer Queen Drive of the Night: Hudson O'Neal
Tezos Hard Charger: Daulton Wilson (20th-7th)
Series Provisional: None
Hoosier Tire Drawing Winners: Galen Robinson, Carson Ferguson
$150 Cash Drawing Winners: Vic Hill, Jordan Koehler
Castrol® FloRacing Night in America Point Standings
(Standings After Oct. 12, 2023)
1)Bobby Pierce – 753
2)Hudson O'Neal – 744
3)Jonathan Davenport – 666
4)Ricky Thornton Jr. – 665
5)Tim McCreadie – 621
6)Dennis Erb Jr. – 599
7)Brandon Sheppard – 507
8)Mike Marlar – 504
9)Tanner English – 398
10)Daulton Wilson – 373
11)Devin Moran – 330
12)Brandon Overton – 308
13)Tyler Erb – 289
14)Garrett Alberson – 285
15)Spencer Hughes – 251
Article Media
Back to News