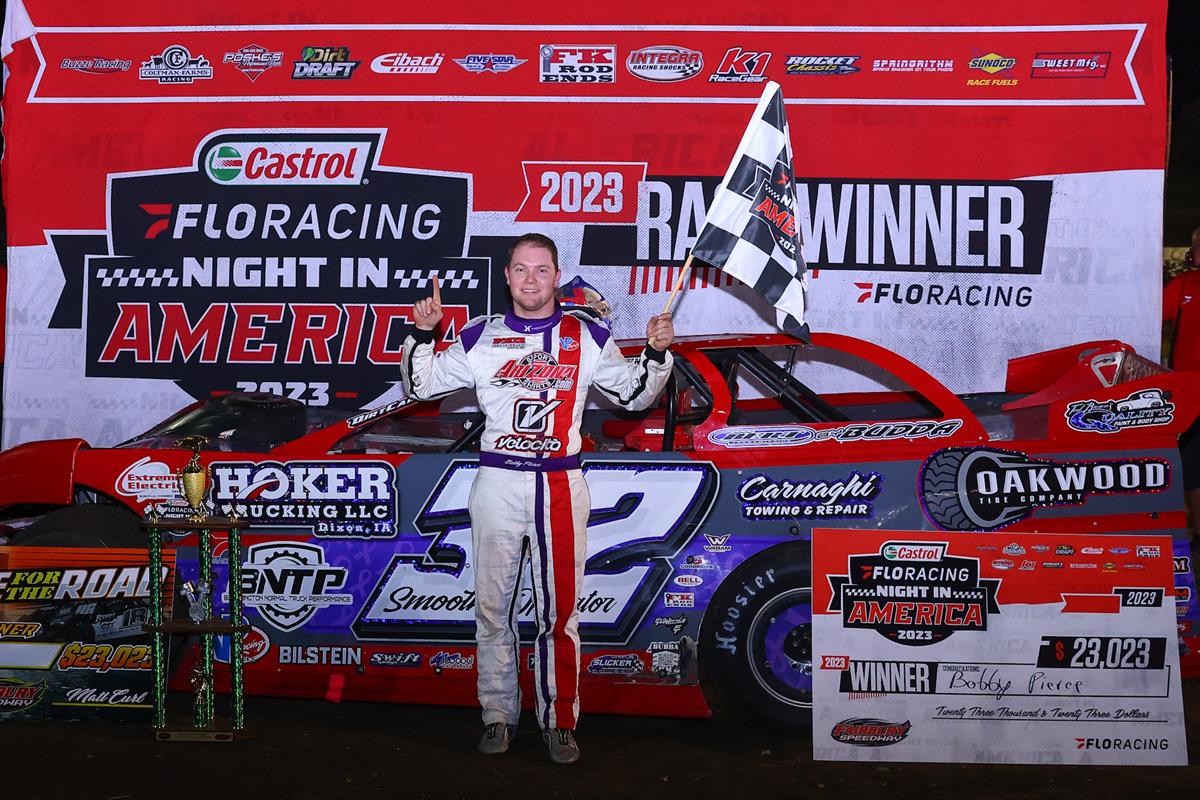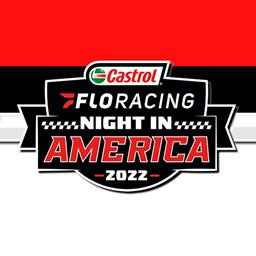 9/13/2023
Castrol FloRacing Night in America
---
Pierce Scores Castrol FloRacing NiA Fairbury Win
The Castrol® FloRacing Night in America's fourth annual One for The Road presented by I-Beam Sliding Doors at Fairbury (Ill.) Speedway took center stage on Tuesday night, where Bobby Pierce claimed the victory for the second-straight year.
When action heated up after a lap-17 restart Tuesday at Fairbury Speedway, Bobby Pierce knew it was time to pounce while he held the third spot behind Hudson O'Neal and Garrett Smith in the 50-lap Castrol FloRacing Night in America event.
"I know Garrett probably didn't know where to go and Hudson was sneaking up in there," the 26-year-old Oakwood, Ill., driver said. "It was pretty wild. I saw them get together— I don't know exactly what happened — and I was like, well, 'Here's my chance.' "
Pierce dove under Smith exiting turn four, then under O'Neal entering turn one to grab a lead he'd never give up in racing to a $23,023 payday and his fourth career Castrol victory to become the third-year tour's winningest driver.
Dennis Erb Jr. of Carpentersville, Ill., overcame a slow start to finished 2.434 seconds behind at the finish with 11th starting Shannon Babb of Moweaqua, Ill., improving eight spots to give home-state drivers a sweep of the podium positions. Pole-starting Tanner English of Benton, Ky., who led the first five laps, settled for fourth with Kyle Bronson of Brandon, Fla., rounding out the top five.
Eatonton, Ga.'s Smith started outside the front row and used the outside groove to sweep around English on the sixth lap, and the youngster controlled the race for 10 circuits before the race's critical moments developed.
Pierce and Martinsville, Ind.'s O'Neal, fresh off his World 100 victory at Ohio's Eldora Speedway, appeared to drop Smith to third on the 16th lap, but Garrett Alberson's slowing car drew a yellow and erased their moves, putting Smith back out front for a restart.
Smith led one more lap after the restart, but when O'Neal made an inside move in turn three — his Rocket Chassis house car nearly turned over as it got up on its right-side wheels briefly — O'Neal took the lead and Smith skittered up the track in turn four, losing momentum.
That allowed Pierce to go past Smith and then O'Neal at either end of the frontstretch, and he pulled away as Smith slid into turn two and made heavy contact with O'Neal, who nearly lost control and dropped back to the eighth position.
While Pierce stayed in control the rest of the way, Smith likewise began fading and retired on lap 32 while O'Neal ended up 11th in the final rundown.
Pierce noted the race might've been "pretty crazy" if Smith and O'Neal stayed in contention, but called it "just an awesome race. I was pretty nervous there when (O'Neal) was showing up in (near the front with) the tires he had on, but it all worked out."
The winner was pleased with his Longhorn Chassis he was forced to drive after a Saturday wreck at Eldora damaged his primary machine.
"The car was way better in the feature. You know, we worked on it all night and haven't raced this car much here lately — we wrecked the other car I got and it's gotta go to Longhorn, we'll be sending that off tomorrow. I'm glad that we got this thing dialed in so we've got two good race cars."
Erb started fourth but fell back to the seventh spot on laps 8-17 before mounting a comeback for a runner-up finish.
"We fell back a little bit but then we were able to get going around the bottom, and it seemed like that's where the place was to be. And we just got plugged away down there and was able to get up there second," he said. "To come back here with this group of cars here and have a second-place finish is real good after (struggling at the World 100). We had some bad luck over at Eldora, but we bounced right back here and we'll just keep going at it."
The third-finishing Babb had "a lot of luck on my side" in advancing from the 10th position to the fourth position between laps 17-22.
"The one restart, I don't really know what happened, but this time it worked out good for me," he said. "I was kind of in the middle there and it seemed like a bunch of guys got together and guys on the outside of me hit the brakes and it was an open hole for me, so I advanced a lot of positions right there."
Getting all the way to the front would've required a better starting spot, but Babb was pleased with where he ended up
"I think Dennis and I and Bobby, we've raced here enough to know that that bottom, when it's got left-side traction like that, it's hard to (abandon it). We got to traffic and I was thinking in my head, 'Well, maybe I could roll them in the middle.' But once we got to traffic and Tanner (English) moved out to the middle and lost two spots, I thought, 'Well, that idea goes out the window.' So I just stayed married at the bottom behind Dennis and took the third place."
Next up fort Castrol® FloRacing Night in America is a trip to Tyler County Speedway (Middlebourne, W.Va.) on Wednesday, Sept. 27 with the $23,023-to-win / $1,000-to-start event as the ninth round of the 2023 season comes to life. Joining the night's action will be a $1,500-to-win DIRTcar Modified program.
Grandstand admission (ages 13-and-up) is $30 with kids (ages 10-and-under) free with paying adult. Pit passes are $40 with kids.
Gates open at 3 p.m. ET with the driver's meeting at 5:30 p.m. hot laps at 6:00 p.m. and racing action to follow.
For more information on the facility, please visit www.TylerCountySpeedwayOnline.com .
The tire rule for the event is as follows:
All Four Corners: NLMT2
Right Rear Tire Option: NLMT3
Tyler County Speedway (Middlebourne, W.Va.) – Wednesday, Sept. 27, 2023
Castrol® FloRacing Night in America Purse
1)$23,023 2)$11,000 3)$5,000 4)$4,000 5)$3,000 6)$2,500 7)$2,250 8)$2,000 9)$1,800 10)$1,500 11)$1,200 12)$1,150 13)$1,100 14)$1,050 15-22)$1,000
TOTAL - $68,573
Entry Fee: $50
Non-Qualifier Money: $50
Complete series rules can be found at www.FloSeries.com .
Drivers, who plan to compete in any of the 2023 season events, are encouraged to register via the site or directly at https://www.myracepass.com/series/1997/registrations/6834 .
Advance registration will make check-in on the day of the show easier.
For more information on Castrol® FloRacing Night in America sponsors, visit the company websites at www.castrol.com; www.integrashocksandsprings.com; www.k1racegear.com; www.buzzeracing.com; www.eibach.com; www.sweetmanufacturing.com; www.springrithm.com; www.sunocoracefuels.com; www.eibach.com; www.coltmanfarms.com; www.poske.com; www.rocketchassis.com; www.dirtdraft.com; www.hoosiertire.com; www.fivestarbodies.com; and www.fkrodends.com.
For complete Castrol® FloRacing Night in America details, visit the series website at www.FloSeries.com. For other questions, contact Ben Shelton at msrmafia@gmail.com or 901-335-3037.
Castrol® FloRacing Night in America Points
Fairbury (Ill.) Speedway
Sept. 12, 2023
A Feature 1 (50 Laps): 1. 32-Bobby Pierce[5]; 2. 28-Dennis Erb Jr[4]; 3. 18B-Shannon Babb[11]; 4. 96V-Tanner English[1]; 5. 40B-Kyle Bronson[3]; 6. 20RT-Ricky Thornton Jr[10]; 7. B5-Brandon Sheppard[6]; 8. 157-Mike Marlar[8]; 9. 49-Jonathan Davenport[9]; 10. 18D-Daulton Wilson[13]; 11. 1-Hudson O'Neal[7]; 12. 7W-Ricky Weiss[15]; 13. 39-Tim McCreadie[19]; 14. 24-Ryan Unzicker[21]; 15. 25-Jason Feger[17]; 16. 1T-Tyler Erb[22]; 17. 1M-Mike Mataragas[12]; 18. B12-Kevin Weaver[16]; 19. 10-Garrett Smith[2]; 20. 42-Mckay Wenger[18]; 21. 58-Garrett Alberson[14]; 22. 33-Mike Harrison[20]
DNS: Ryan Gustin, Gordy Gundaker, Frank Heckenast Jr., Trevor Gundaker, Lyle Zanker, Boom Briggs, Todd Bennett, Brayton Wallace, Brenden Smith,
Entries: 31
Dirt Draft Hot Laps: Ryan Gustin (12.663 sec)
Sunoco Race Fuels Qualifying Fast Qualifier: Dennis Erb Jr. (12.417 sec.)
Integra Racing Shocks Heat Race #1 Winner: Tanner English
K1 Race Gear Heat Race #2 Winner: Garrett Smith
Buzze Racing Heat Race #3 Winner: Kyle Bronson
Coltman Farms B-Main Winner: Tim McCreadie
Trailer Queen Drive of the Night: Bobby Pierce
Tezos Hard Charger: Shannon Babb (11th-to-3rd)
Series Provisional: Tyler Erb
Hoosier Tire Drawing Winners: Brandon Sheppard, Todd Bennett
$150 Cash Drawing Winners: Daulton Wilson, Mike Harrison
Castrol® FloRacing Night in America Point Standings
(Standings After Sept. 12, 2023)
1)Bobby Pierce – 585
2)Hudson O'Neal – 576
3)Jonathan Davenport – 519
4)Ricky Thornton Jr. – 512
5)Tim McCreadie – 507
6)Brandon Sheppard – 507
7)Dennis Erb Jr. – 467
8)Mike Marlar – 438
9)Tanner English – 393
10)Devin Moran – 330
11)Brandon Overton – 308
12)Tyler Erb – 289
13)Daulton Wilson – 259
14)Spencer Hughes – 251
15)Kyle Bronson – 228
---
Article Credit: Josh James Artwork image
Back to News