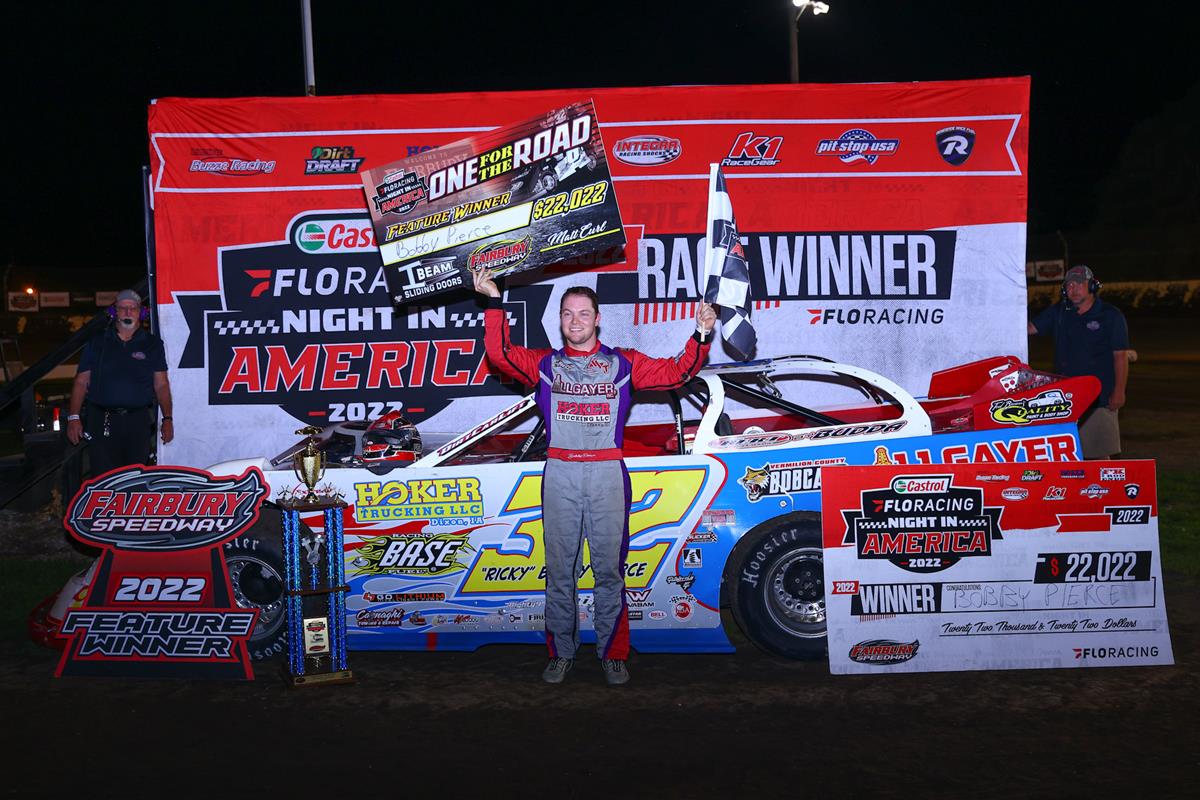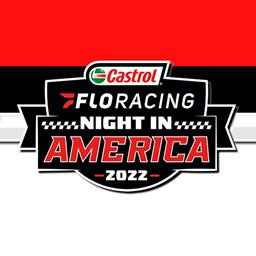 9/14/2022
Castrol FloRacing Night in America
---
Bobby Pierce Grabs Castrol® FloRacing Night in America Fairbury Checkers
Bobby Pierce Grabs Castrol® FloRacing Night in America Fairbury Checkers
$22,022-To-Win / $1,000-To-Start Up Next on Sept. 28 at Atomic Speedway
FAIRBURY, Ill. (September 13, 2022) — Bobby Pierce survived a late-race charge from Frank Heckenast Jr. to score the $22,022 Castrol® FloRacing Night in America victory at Fairbury (Ill.) Speedway in Tuesday's night third annual One for the Road presented by I-Beam Sliding Doors.
Pierce's victory had a different look from his previous successes at the facility.
Eschewing his trademark cushion-pounding style around the quarter-mile oval — at least for the vast majority of the distance — Pierce emerged victorious in the track's 50-lap Castrol FloRacing Night in America-sanctioned One for the Road feature. The 25-year-old star from Oakwood, Ill., turned back a late-race challenge from Frank Heckenast Jr. of Frankfort, Ill., to claim the $22,022 top prize.
"It was a really fun race there," Pierce said after becoming the sixth winner in as many Castrol series events this season. "Really, the whole race was a lot of fun. It wasn't typical Fairbury with me banging the boards the whole time so it was a lot more relaxing race."
Pierce didn't completely stay away from the outside wall, however. He ran the high line to wrestle the lead from Dennis Erb Jr. of Carpentersville, Ill., on lap 13, then switched to a calmer inside approach until Heckenast's high-side bid in the final circuits prompted Pierce to slide back up the track with two laps remaining to stave off the threat.
A winner twice previously this season at Fairbury in MARS Racing Series competition — May 14 for $30,000 and Sept. 3 for $10,000 — Pierce beat Heckenast to the finish line by 0.427 of a second. Shannon Babb of Moweaqua, Ill., finished third after ceding the runner-up spot to Heckenast on lap 47, provisional start Ricky Thornton Jr. of Chandler, Ariz., charged from the 22nd starting spot to place fourth and Ryan Unzicker of El Paso, Ill., completed the top five.
Pierce, who started second, spent the race's opening stages running the outside of the polesitting Erb, who led laps 1-4 and 11-12 with Pierce pacing the circuits in between. The World of Outlaws Case Late Model Series points leader finally gave up the top spot to Pierce on lap 13 while racing through lapped traffic and slowly faded from contention on his way to a seventh-place finish.
"He was racing me really clean," Pierce said of his early tussle with Erb. "I figured he wasn't gonna move up, and I just had to get that top side to come in and figure it out and get some heat in my tires. Once we got rolling we were good.
"I knew that bottom had more traction in it tonight than it has had in the past few races so I knew it was gonna be good. I had the perfect opportunity (to overtake Erb on lap 13) with the lapped car to set him up for a pick because he was running down low, and once I got around him I got right to the bottom and protected for awhile."
In a race slowed just twice by caution flags — lap 28 for Steve Sheppard Jr. slowing and lap 38 for debris (Tyler Erb's quarter-panel) in turn one — the low-riding Pierce largely controlled the action.
"I was waiting for the end," Pierce said. "I figured those guys were gonna show their hand late because I figured they didn't want to do it too early. I kind of felt like a sitting duck just waiting to hear somebody, and I was hearing somebody for the past I-don't-know-how-many-laps …at least it seemed like it. Maybe it was in my head, I don't know."
With five laps to go Pierce's small-but-steady edge began to shrink quickly as Babb, Heckenast and Thornton closed in. Heckenast emerged as Pierce's biggest threat after the 34-year-old overtook Babb for second on lap 47. He almost immediately caught Pierce on the backstretch and, sailing around the top of the track, appeared primed to steal the checkered flag.
But on lap 48, Pierce entered turn three higher than on the track than he had since the race's earliest moments. He thus dulled Heckenast's momentum, allowing him to immediately open some breathing room that he only enlarged over the remaining circuit by powering around the outside of the track.
"I moved up because I felt it was better," said Pierce, who caught his father, Bob, signaling him from outside turn three to run higher on the track as Heckenast approached. "Towards the end I was way more comfortable on the top."
Pierce was ready to do what he had to do to hold on.
"Awesome night, greatly prepped racetrack," Pierce said. "It was so smooth, had two characteristics of a top and a bottom, and that's really everything you could have asked for. I feel like we could've started in the back tonight and moved forward. Hat's off to Fairbury."
Heckenast, who started third but fell back as far as sixth during the race's first half, finally found his rhythm running the top.
"This is probably one of the toughest places in the country for me … maybe not for them guys," said Heckenast, who registered his best finish of 2022 as he continued chasing his first victory since a $15,000 score on Oct. 9, 2021, at Fairbury. "It's real hard to choose where you want to go because it just changes so much.
"It was a good race. Trying to put a show on there. Bobby probably stayed through the middle probably a lap or two longer than he should've. He made it a little close for us. Then when 22,000 (dollars) goes across your face there going in the corner when he turns, you really don't know what to do. You got less than a half a second to decide.
"It didn't work out, but we still ran second and that's great for the way we've been running," he added. "But since Cedar Lake (Speedway's USA Nationals in early August) we've been getting a lot better."
Babb, 48, held second place for much of the race's second half but couldn't hold off Heckenast. He felt good about his performance, though, as he continued to show improvement since debuting a Longhorn Race Car in early August.
"I'm really liking 'em," Babb said of the Longhorn machine. "My paycheck's picked up here in the last month or two. We're top-threeing it to death (Tuesday was his fourth podium finish over the past month-and-a-half). Just excited about racing now."
Castrol® FloRacing Night in America next returns to action on Wednesday, September 28 at Ohio's Atomic Speedway with a $22,022-to-win / $1,000-to-start Super Late Model program. Joining the night's action will be the Southern Ohio Legends and Modifieds.
Devin Moran won the series debut at the 3/8-mile oval in 2021.
The Super Late Model tire rule for the event is as follows:
All Four Corners: Hoosier 1300
Right-Rear option: Hoosier 1425
Drivers must use the same four tires for qualifying through B-Main action. Two tires can be changed for the A-Main.
2022 Castrol® FloRacing Night in America Purse
Atomic Speedway (Wednesday, September 28)
1)$22,022 2)$11,000 3)$5,000 4)$4,000 5)$3,000 6)$2,500 7)$2,250 8)$2,000 9)$1,800 10)$1,500 11)$1,200 12)$1,150 13)$1,100 14)$1,050 15-22)$1,000
TOTAL - $67,572
Entry Fee: $100 | Non-Qualifier Money: $50
Grandstand general admission is $25 with Senior Citizen/Veteran general admission $20. VIP seating is available for $200. Adult pit admission is $40 and kid's pit admission is $20.
Gates open at 4:00 p.m. EST and driver's meeting at 5:30 p.m. Hot laps are at 6:00 p.m. with racing action at 7 p.m.
For more information on the facility, please visit www.AtomicSpeedway.net .
Castrol® FloRacing Night in America
Fairbury Speedway
Third Annual One for the Road presented by I-Beam Sliding Door
September 13, 2022 Feature Results
A Feature 1 (50 Laps): 1. 32-Bobby Pierce[2]; 2. 99JR-Frank Heckenast Jr[3]; 3. 18B-Shannon Babb[5]; 4. 20RT-Ricky Thornton Jr[22]; 5. 24-Ryan Unzicker[6]; 6. 11-Gordy Gundaker[11]; 7. 28-Dennis Erb Jr[1]; 8. 81E-Tanner English[13]; 9. 1-Brandon Sheppard[9]; 10. 44-Chris Madden[7]; 11. 76-Brandon Overton[16]; 12. 157-Mike Marlar[21]; 13. 25C-Shane Clanton[12]; 14. 18D-Daulton Wilson[19]; 15. 11T-Trevor Gundaker[18]; 16. 1T-Tyler Erb[15]; 17. (DNF) 84-Myles Moos[4]; 18. (DNF) 21-Billy Moyer Sr[17]; 19. (DNF) 40B-Kyle Bronson[10]; 20. (DNF) B12-Kevin Weaver[8]; 21. (DNF) 5S-Steve Sheppard[20]; 22. (DNF) 21A-Nick Allen[14]
DNS: Ryan Gustin, Titus Sneed, Jimmy Owens, Brian Shirley, Garrett Alberson, McKay Wenger, Mike Spatola, Ricky Weiss, Jason Feger, Lyle Zanker, Derek Chandler, Joseph Joiner, Rodney Melvin, Jeffrey Ledford, Mike Provenzano, Garrett Smith, Justin Duty, Kyle Strickler, Alex Wilson, Bob Sidener.
Entries: 42
Renegade Race Fuels Qualifying Group A (and overall): Dennis Erb Jr. (12.621 seconds)
Renegade Race Fuels Qualifying Group B: Bobby Pierce (12.723 seconds)
Integra Racing Shocks Heat Race #1 Winner: Dennis Erb Jr.
Pit Stop USA Heat Race #2 Winner: Frank Heckenast Jr.
K1 Race Gear Heat Race #3 Winner: Bobby Pierce
Buzze Racing Heat Race #4 Winner: Myles Moos
B-Main Winners: Billy Moyer, Trevor Gundaker
Provisionals: Mike Marlar, Ricky Thornton Jr.
Hoosier Tire Drawing Winners: Garrett Alberson, Jeffrey Ledford
$150 Cash Drawing Winners: Shannon Babb, Kevin Weaver
For more information on Castrol® FloRacing Night in America sponsors, visit the company websites at www.castrol.com; www.renegaderacefuel.com; www.integrashocksandsprings.com; www.pitstopusa.com; www.k1racegear.com; www.buzzeracing.com; www.hokertrucking.com; www.rocketchassis.com; www.dirtdraft.com; www.hoosiertire.com; and www.fkrodends.com.
For complete Castrol® FloRacing Night in America details, visit the brand-new series website at www.FloSeries.com. For other questions, contact general manager Ben Shelton at msrmafia@gmail.com or 901-335-3037.
Castrol FloRacing Night in America Points (After 09/13/22)
1)Brandon Sheppard – 450 points
2_Mike Marlar – 363 points
3)Bobby Pierce – 329 points
4)Ricky Thornton Jr. – 324 points
5)Hudson O'Neal – 312 points
6)Tyler Erb – 300 points
7)Stormy Scott – 237 points
8)Dennis Erb Jr. – 222 points
9)Ryan Gustin – 220 points
10)Tanner English – 215 points
11)Brandon Overton – 207 points
12)Garrett Alberson – 207 points
Back to News