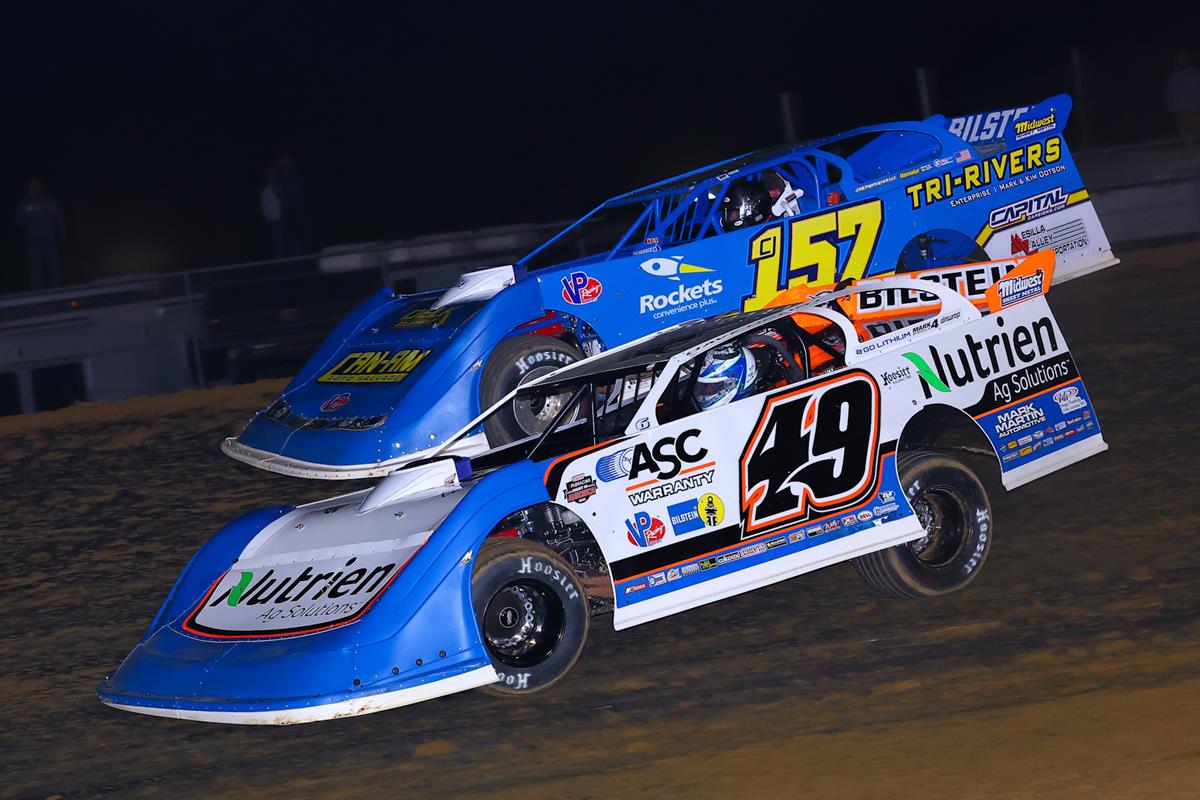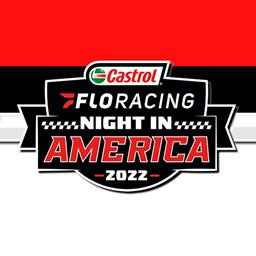 4/28/2022
Castrol FloRacing Night in America
---
Davenport Dominates Castrol FloRacing Night in America at Brownstown
Spoon River Speedway and Lincoln Speedway Up Next
BROWNSTOWN, Ind. (April 27, 2022) — The 2021 Castrol® FloRacing Night in America champion, Jonathan Davenport made winning look easy in Wednesday night's 50-lap miniseries event at Brownstown Speedway.
At least that's what the 38-year-old superstar from Blairsville, Ga., was told after he grabbed the lead from Mike Marlar of Winfield, Tenn., on lap five and ran away from the pack to claim the $22,022 top prize by a commanding 5.056 seconds over Bobby Pierce of Oakwood, Ill.
"I don't really know obviously how big a lead I had," said Davenport, whose second victory of 2022 came four days after he earned his first — and a $50,000 check — at All-Tech Raceway in Ellisville, Fla. "I could see Jason (Durham), my crew guy, give me a lead (signal), but you never know exactly how much you got because I could barely see him down here."
Davenport was never challenged in a race that ran uninterrupted after its lone caution flag flew on lap seven. The 25-year-old Pierce overtook Marlar for second on the lap-seven restart but wasn't able to offer a threat to the dominant victor.
Marlar, who started from the pole position and led laps 1-4, settled for a third-place finish. Outside polesitter Brandon Overton of Evans, Ga., finished fourth in his first-ever start at the quarter-mile oval and NASCAR Cup Series champion Kyle Larson of Elk Mound, Calif., placed fifth after battling forward from the 12th starting to crack the top five with a lap-39 pass of Millport, Ala.'s Jeremy Shaw, who slipped to an eighth-place finish in his Brownstown debut.
Davenport started third but wasted little time bolting to the front. He slipped his Lance Landers-owned Longhorn car past Marlar for the lead on lap five, beginning his stranglehold on the race.
"Our car felt pretty good there," Davenport said. "I knew we was a little better than Mikey, and he kept staying wide and wide and I could catch the middle and roll that just a little bit better than him. I slid him down there (to complete the pass) and I hope I gave him enough room."
The only doubts Davenport experienced came as he negotiated slower traffic.
"I felt like I was struggling with the lapped cars," Davenport related. "I'd get hung behind each one of 'em for several laps. I don't know if the other cars were having that problem too.
"I was kind of questioning myself to move out there (to aggressively lap machines), but I just didn't want to get complacent and then start running their same speed so I had to start moving around. I found that I could get to their quarter-panel on one corner and the next corner I could get to their door, so I was just trying not to gain too much at one time and lose more than I gained."
Davenport made all the right moves to earn his third career win on the second-year Castrol-sponsored tour. The triumph also kept him hot with two wins and a runner-up finish (in Tuesday's Castrol opener at Eldora Speedway in Rossburg, Ohio) in his last three starts.
"This Longhorn clique, it's pretty awesome," Davenport said. "With Kyle (Larson) coming on board with Kevin (Rumley) and (Tim) McCreadie and now Mikey (Marlar) and several others, we all talk and we're definitely getting better and better. We had a good year last year but I think we're primed to have a better one this year."
Pierce, who started fifth, was satisfied with his bridesmaid run. He said "there was a portion of that race where I didn't really belong in second," but he managed to maintain the spot he grabbed from Marlar on the early restart to help erase memories of his frustrating outing at Eldora.
"First off, we unloaded my new car," Pierce said. "I've only got two races on it, that was in New Mexico (in January). Just with how rough the track was last night (at Eldora), we said, 'We're not gonna go through that thing today. We're just parking it and bringing this one out,' and it was really good tonight.
"We got a good qualifying run tonight and that's what kind of got the night rolling for us. We broke a shock last night on lap one of qualifying, but I finished my lap through three and four and it wasn't the fastest. Then last weekend we had qualifying issues too, so just putting a whole night together like we did tonight, that's what we have to do every single night."
Marlar conceded that Davenport was the class of the field.
"Losing second was just (due to) the restart," Marlar said. "I took the outside (lane). I was rolling the outside pretty good and I thought I'd roll the outside and come down the back straightaway and be fine, but I got out there and it just didn't grip good (allowing Pierce to pass).
"Second, third, we were all about the same either way time-wise I think. Jonathan, he was in another zip code. I had (the lead) in my hands right there (at the start) but he was just fast. Hat's off to them guys. He just drove by me, and I think wherever I was on the racetrack he was gonna pass me."
The race's single caution flag, on lap seven, was triggered by Hudson O'Neal, who slowed with a right-rear tire while running in the top 10.
Castrol® FloRacing Night in America action resumes with $22,022-to-win / $1,000-to-start events on May 11-12 at Spoon River Speedway (Banner, Ill.) and Lincoln (Ill.) Speedway. The Wednesday and Thursday events serve as the first two rounds of the inaugural FloRacing Illinois Speedweek.
Following the two Castrol® FloRacing Night in America point's races, there will be a pair of Mid-America Racing Series (MARS) Super Late Model sanctioned events on May 13-14 at Farmer City (Ill.) Raceway ($15,000-to-win) and Fairbury (Ill.) Speedway ($30,000-to-win). The latter two races will not be point's events for Castrol® FloRacing Night in America, but a stout miniseries point fund makes it lucrative for drivers to enter all four programs.
The four-race swing includes a $22,500 point's fund for the Top 5 in the FloRacing Illinois Speedweeks standings with $10,000 going to the champion followed by: 2)$5,000 3)$3,000 4)$2,500 5)$2,000.
Drivers, who plan to compete in any of the 2022 Castrol® FloRacing Night in America season events, are encouraged to register via the site or directly at https://www.myracepass.com/register/?n=34345 . Advance registration will make check-in on the day of the show easier.
Castrol® FloRacing Night in America
Brownstown Speedway
April 27, 2022 Feature Results
49-Jonathan Davenport[3]; 2. 32-Bobby Pierce[5]; 3. 157-Mike Marlar[1]; 4. 76-Brandon Overton[2]; 5. 6-Kyle Larson[12]; 6. 19-Ryan Gustin[7]; 7. 1-Brandon Sheppard[4]; 8. 1S-Jeremy Shaw[6]; 9. 25-Shane Clanton[15]; 10. 20RT-Ricky Thornton Jr[19]; 11. 89-Ashton Winger[10]; 12. 2S-Stormy Scott[9]; 13. 58-Garrett Alberson[20]; 14. 11H-Spencer Hughes[16]; 15. 39-Tim McCreadie[17]; 16. 71-Hudson O'Neal[8]; 17. 1T-Tyler Erb[22]; 18. F1-Payton Freeman[11]; 19. 3S-Brian Shirley[13]; 20. 24-Jared Bailey[23]; 21. 11-Josh Rice[14]; 22. 1G-Devin Gilpin[18]; 23. 18-Shannon Babb[21]
DNS: Jeep Van Wormer, Frank Heckenast Jr., Chad Stapleton, Dylan Thompson, Keegan Cox, Zak Blackwood, Jared Bailey, Skyller Lewis, Jon Kirby, Chase Briscoe, Jeffrey Shackelford, Garrett Smith, Jason Jameson, Tanner English, Zach Dohm, Scott James, John Henderson, Dustin Linville, Daulton Wilson, Shelby Miles, Ross Robinson, Sam Seawright, Quentin White, Greg Johnson, Wil Herrington
Entries: 47
Renegade Race Fuels Qualifying Group A (and overall): Mike Marlar (13.355 seconds)
Renegade Race Fuels Qualifying Group B: Jonathan Davenport (13.683 seconds)
Integra Racing Shocks Heat Race #1 Winner: Mike Marlar
Pit Stop USA Heat Race #2 Winner: Jonathan Davenport
K1 Race Gear Heat Race #3 Winner: Brandon Overton
Buzze Racing Heat Race #4 Winner: Brandon Sheppard
B-Main Winners: Tim McCreadie, Devin Gilpin
Hoosier Tire Drawing Winners: Wil Herrington, Zach Dohm
$150 Cash Drawing Winners: Payton Freeman, Jeep Van Wormer
Track Provisional: Jared Bailey
For more information on Castrol® FloRacing Night in America sponsors, visit the company websites at www.castrol.com; www.renegaderacefuel.com; www.integrashocksandsprings.com; www.pitstopusa.com; www.k1racegear.com; www.buzzeracing.com; www.hokertrucking.com; www.rocketchassis.com; www.dirtdraft.com; www.hoosiertire.com; and www.fkrodends.com.
For complete Castrol® FloRacing Night in America details, visit the brand-new series website at www.FloSeries.com. For other questions, contact general manager Ben Shelton at msrmafia@gmail.com or 901-335-3037.
---
Article Credit: Josh James Artwork image
Back to News